Welcome to the Red Neck Hunting Club's member's website. We are located in Polk County GA and are about 10 minutes West of Cedartown or about an hour west of Atlanta.
The club consists of approx. 1500 acres of gentle rolling hills, Pine growth of all stages with hard wood fingers and ridges. This region is void of creeks and streams however we do have ponds located on the property. Our roads behind locked gates are kept in excellent condition and are fingered throughout the property for easy access to all areas of the club by our members.
We have an excellent deer herd and a very strong turkey population. Photos can be seen on the Club Photo's page.
This Club has been established for 30 years
Club work day and BBQ photo below.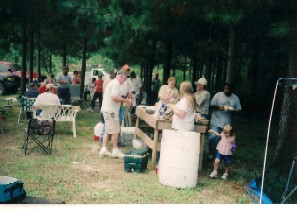 Check out the Redneck Hunting Club Forum (second link from the top). This is a forum set up for club members to get to know one another, share tips and tricks, record your kills and see what's going on at the club. Feel free to use it at any time.
This site was updated 11-12-07
Contacts:
George Rosser 770-748-0445 President
Scott Tuttle 404-461- 3068 Vice President
Email us at: Redneckdeerclub@aol.com